Boxer Martin Ward leaves hospital after Essex shooting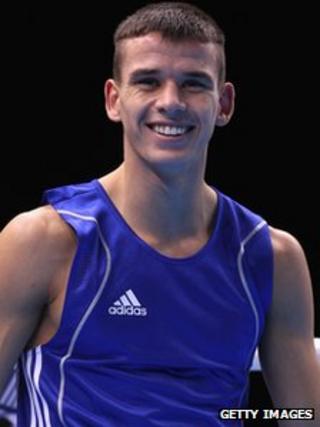 A former member of the British boxing team and his brother have left hospital after being shot on farmland in Essex.
Martin Ward and his sibling John were left with wounds to the legs and chest after what police called a "neighbour dispute" in Navestock on 27 August.
Essex Police is "strongly urging" shooting suspect Francis O'Donoghue to hand himself in.
The force said it had reports of "several sightings" of the 27-year-old during the last few days.
It is believed he could be hiding with friends or relatives at travellers' sites in London or Hertfordshire.
'Neighbour feud'
Supt Trevor Roe said: "Francis O'Donoghue was definitely at the site when the shooting took place, so our primary focus is to find him and take him off the streets.
"The attack was initiated by an ongoing neighbour feud which began earlier in the day outside a shop in Harold Wood.
"We would urge anyone who knows him to avoid him... and those who come into contact with him should call us immediately."
The shootings happened at a farm off Goatswood Lane in Navestock.
Martin Ward, 22, is a former European junior champion and represented Great Britain.
He turned professional last September and has won all six bouts since.
Boxing promoter Matchroom, which represents Mr Ward, has yet to comment.