Thomas Brittain stabbing: Murder accused carried fake gun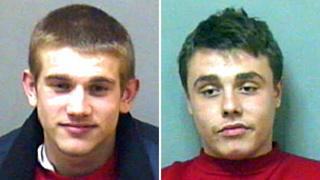 A man claims he could not have fatally stabbed an aspiring rapper - because he was carrying a fake gun at the time.
Thomas Brittain, 26, bled to death after an attack at his flat in Colchester on 9 March, Chelmsford Crown Court heard.
Andre Vella, 19, from Village Close, Kirby Cross, and Jack Hummerstone, 18, of no fixed address, both deny murder but admit going to the flat to steal.
Mr Hummerstone told the court he took a gun as it was "scarier than a knife".
Mr Vella denies possession of an imitation firearm and aggravated burglary while Mr Hummerstone admits these charges.
Both men have denied wounding with intent.
The jury has heard how during a struggle involving Mr Brittain, his friends Matthew Purves and Zoe Lewis - who also lived in the flat - hid with their three children in the next room.
The court on Tuesday heard the men admitted carrying out a raid to steal drugs but blamed each other for the stabbing.
'I did not do it'
Mr Hummerstone told the court he took a gun on the raid, claiming Mr Vella had the knife used to kill Mr Brittain.
"I carried the gun, there was no point me having a knife - a gun's more scary than a knife," he said. "There was no intention to use it."
Describing the raid, he said: "I told Andre there were drugs and money at the flat and it would be an easy job. It didn't turn out like that.
"We were going to rob two flats that evening - we were going to take the money and drugs and be on our way."
Mr Vella has already denied playing any part in the stabbing, saying he did not have the knife used in the attack.
"I did not do it, I was not the knifeman," he told an earlier hearing.
The trial continues.