Horses dead and man injured in Wickford crash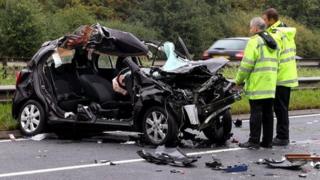 Two horses have died and a man is seriously injured after three of the animals wandered on to a road in Essex.
Essex Police said the crash happened on the A127 in Wickford at 06:00 BST and involved four cars and a lorry.
Officers said a man in a Nissan Micra had to be cut free by the fire service and was taken to Basildon Hospital with a serious head injury.
The London-bound carriageway of the road has been shut while emergency services remain on scene.
Police said one horse died instantly and the second had to be put down by a vet. The third horse was unhurt.
Officers have called it a "distressing scene" and any witnesses who have been affected are recommended to seek counselling.