Second Wickford A127 crash leaves third horse dead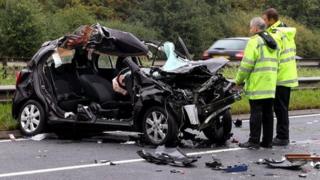 Another horse has died and another person has been injured after a second crash involving wandering horses in a matter of hours on an Essex road.
Police said the smash on the A127 in Wickford at 20:00 BST on Saturday happened only about a mile away from where two horses died the same morning.
In the second crash, a woman received facial injuries. A man remains in hospital from the first accident.
Essex Police believe the horses escaped from two travellers' farms.
A spokeswoman said they were treating the crashes as two separate incidents and it appeared to be a "coincidence" that the horses escaped from two farms on to the same stretch of road on the same day.
'Seek counselling'
Insp Dick Thomas, from Essex Police, said: "Work is ongoing by local police officers to ensure horse owners are reminded of their responsibility under the Animal Act 1971, that they have a duty of care to prevent horses or any animal straying onto the highway.
"The investigation into the causes of the collision with two horses around 6am and the second incident around 8pm continues.
"That investigation will include the circumstances of how the horses came to be on the A127 and whether any offences by the horse owners have been committed or not."
In the first crash, involving four cars and a lorry, two out of three escaped horses died. A third was rounded-up unhurt.
A man in his 60s received a serious head injury and was transferred to a London hospital later on Saturday.
The woman hurt in the second crash was taken to Basildon Hospital.
Officers called the crashes "distressing" and any affected witnesses have been recommended to seek counselling.