Ryanair to boost Stansted passenger numbers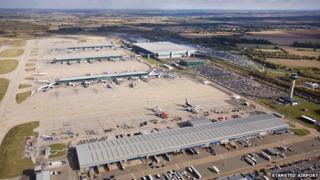 A budget airline has revealed plans to increase its passenger numbers through Stansted Airport from 13 million last year to nearly 21 million by 2023.
Dublin-based Ryanair already serves 140 destinations from the Essex airport and has added three more in Europe and one in north Africa for next summer.
The announcement comes six months after Manchester Airport Group (MAG), bought the airport.
Stop Stansted Expansion said it would now become the "cheap flights airport".
The new owners have already said capacity at the airport could rise from 17.5m passengers to 160m a year to help meet growing demand in the South East.
MAG has previously submitted potential options to the Airports Commission that included a £10bn "hub" with four runways.
Its chief commercial officer Ken O'Toole said the Ryanair announcement confirmed the company shared the airport's owners' confidence that they could expand the services on offer.
'Business logic'
The Stop Stansted Expansion campaign group called the plans "irresponsible" and "opportunistic".
Brian Ross, from the group, said he did not "understand the business logic" in expanding Ryanair's customer numbers at the airport.
He added: "It will simply entrench Ryanair even deeper as the dominant airline at the airport and reinforce Stansted's reputation as nothing more than a 'cheap flights' airport.
"When MAG bought Stansted, it said that it wanted to make the airport more broadly based, with more airlines and more destinations.
"This Ryanair deal, coming on top of the deal MAG did with Easyjet a few months ago, indicates that MAG has so far done exactly the opposite."