Goldfish found alive in pond covered by 2011 fire debris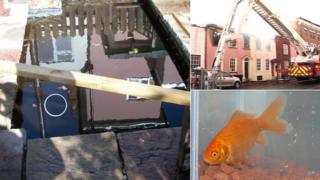 A goldfish survived 21 months without fresh food or light in a pond covered by debris from a house fire.
It was thought all the fish had been removed from the pond at the house in Harwich, Essex, following the blaze in December 2011.
But Smokey, as the fish is now known, was found earlier this month by contractors restoring the building.
The RSPCA said it was surprised the fish had survived without any "obvious source of aeration".
Plywood and plastic was left covering the garden pond following the fire which destroyed the row of five 17th Century houses on 7 December 2011.
Barry Eldridge, building surveyor with Tendring District Council, which owns the house with the pond, said: "Smokey was discovered as the work on the house came to an end and the contractors were looking to fill-in the pond."
'Quite a surprise'
The council said Smokey, who is 3in (75mm) long, seemed to have suffered no ill-effects.
Katya Mira, from the RSPCA, said: "Fish require oxygen in the water to breathe so it's quite a surprise that Smokey has survived so long in a covered-over pond with no obvious source of aeration.
"It may be there was just enough in the water for him to survive until now.
"It's lucky as it's likely the build-up of waste products and carbon dioxide in a covered-over pond would eventually kill a fish."
The council said it had contacted the previous tenant of the house and arrangements would be made to reunite Smokey with its owner and former pond mates.
Paul Honeywood, of the council, said: "It was quite a surprise for the contractors and extremely fortunate Smokey survived all these months.
"It is great to know that he will be returned to where he belongs and will be looked after by the contractors until that can take place."