Stansted Airport: Geoff Muirhead leaves Airports Commission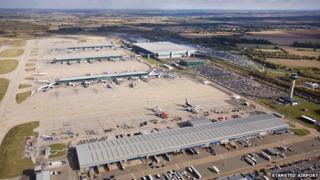 A government advisor on the expansion of Britain's airport capacity has stood down after campaigners raised concerns over potential bias.
Geoff Muirhead left his position on the Airports Commission by mutual consent after complaints relating to his links to Manchester Airports Group (MAG).
Stop Stansted Expansion said there was a conflict of interest as MAG now owned the Essex airport.
The Department for Transport (DfT) said there was "no evidence" of bias.
Mr Muirhead stood down as MAG chief executive in 2010 but worked in an ambassadorial role for the company until earlier this year.
A DfT spokeswoman said there was "no implication against Mr Muirhead's integrity".
'Conflict of interest'
She said: "Mr Muirhead was appointed to the Airports Commission in October 2012, at which point MAG did not own Stansted Airport.
"Following its submission to the Airports Commission concerning options for the expansion of Stansted, questions have been raised about the appearance of a potential conflict of interest.
"Although there is no evidence whatsoever of bias towards the MAG submission concerning Stansted, we have agreed the prudent course is for him not to continue as a commissioner to avoid any perception of a potential conflict of interest."
The Stop Stansted Expansion campaign group raised concerns of bias earlier this year and this month initiated legal proceedings against the government.
Peter Sanders, the group's chair, said: "It is important to make clear that our purpose in pursuing this action has always been - and will continue to be - to ensure the issues regarding potential airport expansion are examined fairly, impartially and independently, and that this is seen to be the case."
An Airports Commission spokesman said it regretted the decision had become "necessary" to "safeguard against any perception that the integrity of the process may be compromised".