Essex Police probe after Frinton sand sculpture knocked over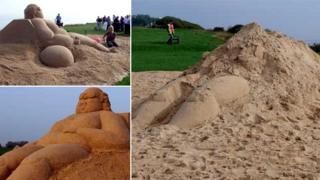 Police are treating the knocking down of a sand sculpture as "criminal damage" after a council put up a £1,000 reward to catch the culprit.
Nicola Wood had built the sand sculpture on the greensward at Frinton, using sand brought up from the beach.
Before it was demolished, Ms Wood said she loved working with sand because "you make something and it disappears".
But Tendring District Council said knocking down the sculpture had "ruined a lot of people's pleasure".
Essex Police, which attended after the sculpture was knocked down, said it deemed the sculpture's destruction as criminal damage, even though it was made of sand.
It is understood what makes the sculpture different from a sand castle on the beach was that the sand had been brought up to the grass area of Frinton's sea front as part of an art project.
Staff from the council had hoped to spray the sculpture with a solution which would have preserved the structure for weeks or months.
But when they arrived, they found a large pile of sand with only the legs remaining.
Council leader Peter Halliday said: "It is beyond belief to me that someone would do this. They have gained absolutely nothing from this act but totally ruined a lot of people's pleasure.
"I hope they are proud of themselves.
"I am hoping that there is somebody out there who knows exactly which morons are responsible and will feel it's their public duty to report them.
"If they are arrested and convicted there is a £1,000 reward available for that information."
The sculpture, which took two days to build using 40 tonnes of sand, was based on a Victorian postcard.