Clacton school Ravens Academy spends £14,000 on uniform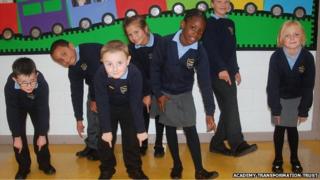 A school in Essex has spent £14,000 on new uniforms for all its students in an attempt to "raise aspirations".
Ravens Academy in Clacton gave each of its 158 pupils five polo shirts, two jumpers or cardigans, shoes and a book bag following parents' wishes.
The Academy Transformation Trust said it wanted its pupils to have a "level footing" when the ex-Ravenscroft Primary began life as an academy.
The county council said the move was "commendable".
Clacton is classed as the second most deprived seaside town in England after Blackpool, according to the Office for National Statistics.
'Big chunk of money'
The money for the uniform formed almost half of a £30,000 government grant the school received, to transform it into an academy this month.
The rest was used to re-brand the building and buy new equipment for the pupils, aged four to 11.
A spokeswoman for the trust said: "It was important for the school because we want to raise aspirations.
"It's a big chunk of money, but we wanted the children to start on a level footing and be proud of their uniform.
"There's no hiding its a low-income area and we wanted to do our part in helping towards the cost of it."
Parents still have to buy trousers or skirts for their children, but the trust said these items were "generic" and "easy to buy".
'Great pride'
The uniform cost is a one-off and will not be repeated next year.
Essex County Councillor Ray Gooding, cabinet member for education and lifelong learning, said: "Times are difficult for many families and it is commendable that a school wants to help and support its parents this way.
"Pupils take great pride in their school, and having a uniform gives them a sense of place and identity.
"It's obviously the school's money and for them to spend it at their own discretion and I wish them all the best."
Schools in England are being told to take action to cut the cost of school uniforms to help hard-pressed parents, under new guidance being issued by the government.