Essex Police chief blasts hangover sickies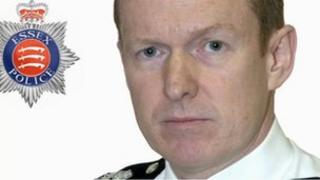 Essex's police chief has warned his officers that taking the day off sick with a hangover is not acceptable and is "letting their community down".
Chief Constable Stephen Kavanagh told a force magazine that some officers were "abusing the sickness management process" and "will be dealt with".
He said his officers were averaging 12 days sick a year, five more than nurses at Chelmsford's Broomfield Hospital.
Mr Kavanagh said he was looking at how to "stop people abusing the system".
'Swinging the lead'
In an interview with the Essex Police Federation Mr Kavanagh said: "For those who are genuinely unwell, we are looking at how we support them through occupational health and, if necessary, investing in occupational health to get them back.
"But I think if you look at the overall numbers compared to other forces, there is also a group - a small group but a group nonetheless - that are abusing the sickness management process.
"If they can't get the time off, they take it sick. If they have a heavy night, on occasions they are taking days off. They will be challenged and if necessary they will be dealt with."
Essex Police and Crime Commissioner Nick Alston said he welcomed Mr Kavanagh's stand.
Speaking to BBC Look East he said he recognised that officers were doing "dangerous physical work and sometimes they will be injured" but added "if of course there are a few officers swinging the lead let's find them out and deal with them".