No Harwich fire house return for 'Smokey the goldfish'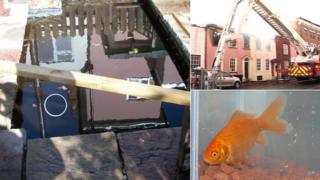 A goldfish which survived 21 months without fresh food or light after a fire will not be among the former residents returning home.
Smokey was found by contractors restoring buildings ravaged by a fire in Harwich, Essex, in 2011.
Nineteen months since the fire, residents are returning to their 17th Century homes.
But Tendring District Council, which found the goldfish, said Smokey had found a new home elsewhere.
Experts were surprised at Smokey's survival because, according to the RSPCA, there was no "obvious source of aeration".
Plywood and plastic was left covering the garden pond following the fire, which destroyed the row of five houses on 7 December 2011.
A council spokesman said: "He will not be going back. He is in a new home now. He is in a tank."