'Malicious' Basildon mayor Mo Larkin cartoon investigated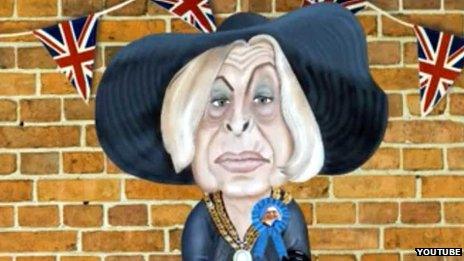 Police are investigating a "disgusting" cartoon video ridiculing an Essex mayor which was posted online.
It features Basildon mayor Mo Larkin and includes a scene of her apparently giving birth to council leader Tony Ball.
Mr Ball said he and Mrs Larkin were "shocked" at the "disgusting" video.
"As politicians we expect to take the knocks and the bumps and you expect criticism when you put your head above the parapet," he added.
"But this goes well beyond that."
A link to the online cartoon was sent to all members and officers at the council, Mr Ball said.
The council then complained to police and workers were advised not to click on it.
A spokeswoman for Essex Police said: "We are investigating allegations of malicious communications and inquiries are ongoing."
No-one has yet been arrested, police say.
After the photograph of Mrs Larkin on Armed Forces Day was circulated, the council opened an investigation into whether someone inside the council had taken the image to cause embarrassment to Mrs Larkin.
Mr Ball said that investigation had not been successful in finding the person who had taken the image.
Mrs Larkin is yet to comment on the matter.
Related Internet Links
The BBC is not responsible for the content of external sites.