Stansted Airport expansion opponents in claim 'bias'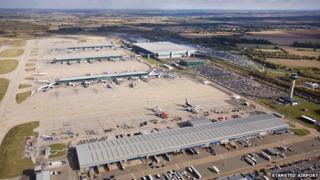 Airport expansion opponents have claimed criteria used to consider sites for new runways has been "infected by apparent bias".
The Stop Stansted Expansion (SSE) group has lodged papers for a new High Court action, calling for a delay in the publication of shortlisted sites.
SSE said the criteria used to consider the sites should be re-examined.
The Department for Transport (DfT) said there was "no evidence whatsoever of bias".
SSE claimed that former Airports Commissioner Geoff Muirhead had a conflict of interest.
'Acted properly'
Mr Muirhead was once chief executive of Manchester Airports Group (MAG), which bought Stansted Airport in February.
He resigned from the Airports Commission in September.
Mr Muirhead was MAG's chief executive until 2010 but worked in an ambassadorial role for the company until earlier this year.
A DfT spokesman said Mr Muirhead had "acted properly" at the commission but stood down to "avoid any perception of a potential conflict of interest".
Stop Stansted Airport's economics adviser Brian Ross said: "With proposals on the table from MAG to make Stansted the world's busiest airport with four runways handling up to 160 million passengers a year, there is far too much at stake to allow the issue of apparent bias to go unchallenged."
The High Court is being asked to order the commission, chaired by Sir Howard Davies, "to re-visit certain key decisions made by the commission during the time that Mr Muirhead was involved".
The DfT spokesman added: "Both the department and Sir Howard Davies agree that there is no evidence whatsoever of bias and the Airports Commission is content that decisions taken to date are robust."