Writtle school forgets time capsule location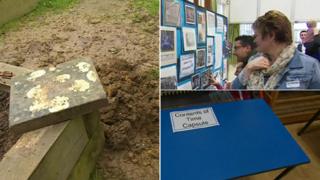 A school was unable to open a time capsule in time for its 50th anniversary because no-one could remember where it was buried.
The plastic ice-cream tub was originally placed in the garden of Writtle Junior School, near Chelmsford, 25 years ago.
But teachers now think it may have been removed from its original burial place.
Headteacher Nick Taylor said the "desperate search" was called off in case they destroyed their garden.
The school called in metal detectorists but to no avail.
Mr Taylor said: "I think we've dug about three holes around our school garden and we've had to stop because we were slowly destroying it in our desperate search for the capsule."
Keep digging
Writtle Junior School decided to mark its 25th anniversary by filling a time capsule which was scheduled to be opened on its 50th anniversary.
Pupil Chris Green won the competition to decide the contents of the plastic container which included first and second class stamps, coins, a newspaper and a toy car.
It was buried in the school's garden under a slab, engraved with its date.
But despite digging "a very, very deep hole", nothing was found under the slab, according to Mr Taylor.
However, the garden has been remodelled in recent years and deputy headteacher Sue Evans said she believed the capsule may have been moved at that point.
Former pupil Karen Patient was at the school when the capsule was buried.
She said: "I have told the the headmaster where I think it was buried but they haven't tried there yet - as far as I remember it was in a different corner, underneath a bench."
Mrs Evans said she was sure they would eventually find the capsule if they keep digging, "although our gardening club might not recover".
A second time capsule has now been buried to mark the 50th anniversary.
Mr Taylor said this time the school would keep very detailed records of its location.