Essex County Council defends Italian Caesarean adoption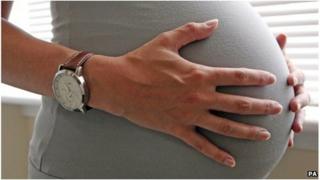 A council which put the baby of a woman forced to undergo a Caesarean birth up for adoption claims it acted out of concern for their health.
The baby, whose mother is Italian, was taken into care by Essex County Council's social services.
In October, the council obtained permission to put the baby up for adoption.
Sir James Munby, president of the High Court's Family Division, has ordered the case is heard by him in future.
Essex County Council said it had "exhausted all other options", such as liaising with the mother's extended family, before pursuing an adoption.
'Safety and wellbeing'
The council said an Essex health trust had been looking after the mother since 13 June 2012, when she was detained under the Mental Health Act.
In August, the health trust gained permission from the courts to deliver her unborn baby by Caesarean.
The council said social services had taken the baby into care because "the mother was too unwell to care for her child".
"Historically, the mother has two other children, who she is unable to care for due to orders made by the Italian authorities," the council said,
"In accordance with Essex County Council's Social Services practice, social workers liaised extensively with the extended family before and after the birth of the baby, to establish if anyone could care for the child."
The spokesman added: "The long term safety and well-being of children is always Essex County Council's priority.
"Adoption is never considered until we have exhausted all other options and is never pursued lightly."
'Tooth and nail'
Marjorie Wallace, chief executive of the mental health charity SANE, said: "We are concerned that a decision was made in this disturbing case to remove the baby after birth while the mother was still apparently acutely ill.
"It is difficult to predict with precision the prognosis for any individual. We would hope that any such decision took into account the fluctuating nature of the mother's illness, which would have allowed time for her to receive treatment and potentially recover.
"The secrecy that surrounds cases like these reinforces fear and damages the confidence of people and families affected by bipolar disorder."
On Sunday, solicitor Brendan Fleming issued a statement in which he said he had been instructed by the woman's lawyers but would not discuss the case.
"We remain committed to fighting for our clients and shall fight tooth and nail to help mother be reunited with her baby," it read.