Hadleigh Farm Olympic mountain bike course: Legacy work begins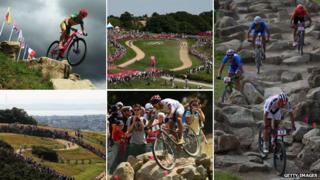 Work has begun on a £6.8m project at an Olympic venue in Essex with the aim of opening it to the public.
A visitor hub and new cycling trails are being created at Hadleigh Farm near Southend, where the London 2012 mountain bike events were held.
The Salvation Army will run a cafe and family resource centre on the site, offering training for people with special educational needs.
The 'Essex Legacy' project is expected to take a year to complete.
The Olympic mountain bike track was built at the country park site at a cost of about £800,000 for 2012, but it is not yet open to the public.
Walks and gentler cycling trails are also being created at the site.
'About to deliver'
David Brittney, a volunteer with the 200-member Hadleigh Mountain Bike Club, said: "There are so many places after the Olympics that are derelict that it's nice to keep the momentum going.
"There's a big community of riders that want to come down and use it, so the sooner it's open the better."
The new Hub includes a bike shop and workshop, rangers' offices, car park and children's play area.
Essex County Council is spending £4.7m on it, with the rest coming from other funding sources.
Councillor Ann Naylor, cabinet member for public health, said: "We promised that the Olympic course would be open to all and that's what we're about to deliver."
Beverley Egan, community services director for the Salvation Army, said: "We will be continuing to work to remove barriers disadvantaged people face in gaining employment as well as contributing to the area by providing a first-class tourist attraction."