Assisted dying law change call from Heather Pratten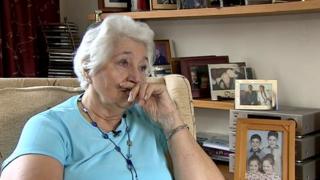 A mother who helped her terminally ill son die of a heroin overdose wants a law change on assisted dying.
Heather Pratten, 76, of Rayleigh in Essex helped her son Nigel take his own life 14 years ago.
Lord Falconer's Assisted Dying Bill is due to get its second reading in the House of Lords during the summer.
If approved, the law would allow doctors to prescribe a lethal dose of drugs to terminally ill patients. But opponents say it is a dangerous step.
Nigel had been an artist before the onset of Huntington's disease.
'Went to sleep'
His mother helped him die on his 42nd birthday in 2000 at his flat in Plaistow in east London.
"He was having trouble walking, he was having trouble talking," she said.
"We just lay down together, we talked about his life and then we both went to sleep."
When she woke, she said, she smothered him with a pillow.
"I loved him so much and I knew what he wanted," she said.
Initially she was charged with murder. But this was later reduced to aiding and abetting suicide, after a post-mortem examination revealed he was so close to death her actions made no difference.
Ms Pratten, now a patron of Dignity in Dying, was given a 12-month conditional discharge.
She is campaigning in support of the Assisted Dying Bill.
'Change their minds'
Under Lord Falconer's private member's bill, assisted dying would be legalised in "strictly defined circumstances".
Only those aged 18 and over, who have had a terminal illness diagnosed, would be able to request help to end their lives.
In doing so, they would have to prove they have the mental capacity to make a voluntary and informed choice, were not being unduly influenced by others and had a "settled intention" about their wish to die.
But Dr Idris Baker. a consultant in palliative care medicine, said: "The change in the law that is being proposed really isn't the change that is needed.
"It is what some people want, but not actually what many people in that situation want."
He said in his work in hospitals he had often been struck by the way the terminally ill change their minds about their treatment.
Dr Baker said he did not feel the bill as it stood offered the necessary safeguards for patients.
"I don't think it is a good bill," he said.