Colchester Hospital criticised again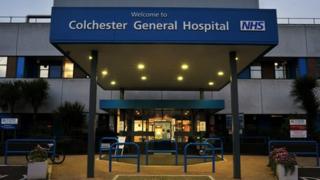 "Proper investigations" into bullying complaints have not been carried out by a hospital being probed by police.
A police inquiry at Colchester Hospital started after staff said they were being "pressured or bullied" to falsify data relating to cancer patients.
A separate review of the hospital has now found that staff are still affected by "bullying and harassment".
The hospital said it had made progress but still had a "long way to go" and welcomed the findings of the review.
Properly investigating reports of bullying was one of 33 action points set out for the trust following Sir Bruce Keogh's review of death rates at 14 hospitals last year.
'Shine a light'
The trust has satisfied NHS England inspectors it has fully met just one of these action points - that it has enough staff to escort people to radiology.
Inspectors were "not assured" the trust had met six of the action points.
These include claims that senior staff were not visible enough on the wards at Essex County Hospital and that the trust's "quality strategy" "lacked ambition".
However, inspectors found improvements had been made in many other areas.
Kim Hodgson, chief executive of Colchester Hospital University NHS Foundation Trust, said: "It shows that the trust is on the road to recovery but also that there is still a long way to go.
"The trust accepts this report in full and welcomes the level of detail because it helps to shine a light on to those areas where we need to focus.
"The fact that we are improving is testament to staff rising to the challenge."