Fire at Colchester's Merville Barracks leads to evacuation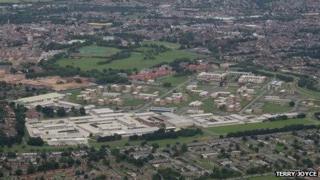 An Army barrack block was evacuated after a fire broke out on the third floor.
Essex Fire Service said neighbouring accommodation blocks at Merville Barracks in Colchester were also cleared after the fire at 02:30 GMT.
A spokesman for the fire service said the fire had started in a bathroom and spread into the corridor of an accommodation wing.
He said the fire was caused by an electrical fault. Nobody was hurt.
Merville Barracks is the central camp of Colchester Garrison and houses the headquarters of 16 Air Assault Brigade, 18 Army Education Centre, the WRVS centre and living accommodation for unaccompanied or single service personnel.