Who is 'Sandbanksy'? Southend beach art found by residents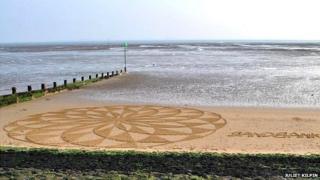 A number of large sand pictures signed by an artist calling themselves "Sandbanksy" have been found on a beach.
A number of works stretching between Southend-on-Sea's sea breaks appeared on the beach on Thursday.
One was a large maze with the words "try me" carved into the sand. A second features an intricate geometric design.
Lisa Brower, at the town's Rossi Ice Cream parlour, said she believed "Sandbanksy" was in fact two people.
She told how customers started coming into the parlour saying they thought "aliens had landed" after spotting what they thought resembled crop circles.
"Aliens definitely hadn't landed because I went out and saw two people - a man and a woman - out with a rake doing their artistic work.
"They are just the most fantastic pictures," she said.
"I hope they come back when the tide goes back out."