Essex aircraft crash: Teenage Army cadets ran to help victims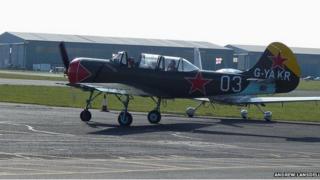 Two young Army cadets ran to the scene of a fatal plane crash to try and help the victims, the man who made the 999 call said.
The YAK 52 aircraft crashed on Saturday afternoon in a field near Cooksmill Green, west of Chelmsford in Essex.
Tristram Taylor, from Chelmsford, said he ran over to the crash site with two boys when they saw the plane hit the ground after a "backward somersault".
But the flames were so severe they could not reach the men inside.
The plane had taken off from the nearby North Weald airfield and was seen by a number of eyewitnesses looking like it was somersaulting before crashing near to the A414, at just before 15:00 GMT.
'Flames from cockpit'
Mr Taylor, 27, said he was in a car with his mother leaving a nearby garden centre when they noticed a plane flying low.
"We saw it dip behind a hedge and usually they come up - we see stunt planes carrying out moves around here quite a lot - but this time it didn't," he said.
"We went a bit further down the road and I could then see the tail end of the plane on the ground and a lot of smoke.
"I got out and ran towards it with a couple of Army cadets that were in the car behind - they were probably only about 15 or 16 years old.
"There were flames coming from the cockpit - they must have been about 10ft high.
"The wind was very strong in the field. I could feel the heat of the flames just a few feet away."
He said police, about four or five fire crews and a number of ambulances arrived soon afterwards.
"It was horrific. The plane was popping and spitting where the fuel was catching fire. I don't think anything could have been done."
Both victims' next of kin have been informed and their names will be released by the coroner upon the opening of their inquests, Essex Police said.
The Air Accidents Investigation Branch is investigating the crash.