Essex aircraft crash: Victim named as father-of-one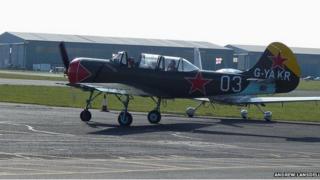 A man who died when the plane he was flying in came down in an Essex field has been named as Simon Chamberlain.
The father-of-one died along with the pilot when their YAK 52 light aircraft got into difficulties on Saturday afternoon near Chelmsford in Essex.
Mr Chamberlain's family paid tribute to the 29-year-old, who came from nearby Harlow.
Police said they were not yet in a position to name the pilot, who was also from Essex.
The plane crashed near Cooksmill Green after it did what witnesses described as a "backward somersault".
It had taken off from a nearby airfield and was seen by a number of eyewitnesses as it came down near the A414.
Mr Chamberlain would have been 30 in May, his family said in a statement.
"Lizzie, his wife, has lost her best friend and soul mate. His son, Charlie, who will be two years old in August, has lost his father. And his parents, Paul and Steph, have lost a loving son. We love him more than anything the world.
"Our hearts also go out to the other person involved in this tragedy."
They asked to be given time and space to grieve.
The Air Accidents Investigation Branch is investigating the crash.