Ex-chief in £60k Essex Police bonus row gets hospital job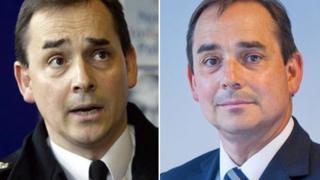 A former chief constable who faced questions over his £60,000 bonus has taken a new job as a hospital director, earning £11,000 for working a minimum of four days a month.
Roger Baker's bonus was criticised by Essex Police and Crime Commissioner Nick Alston, who called for a review.
Mr Baker, who is yet to comment, is one of three new non-executive directors at Colchester Hospital.
The hospital said the directors brought a wealth of public sector experience.
'Public domain' concerns
Mr Baker was Essex Chief Constable from 2005 to 2009 and received bonus payments not to leave in 2008-09 and 2009-10.
He retired from the force and is now one of Her Majesty's Inspectors of Constabulary.
Speaking last year, Mr Alston said the payments were "outside the national Police Negotiating Board agreements".
"Much of the rationale for their decision-making is not in the public domain," he added.
Robert Chambers, chairman of the police authority that made the payments, said the sums were above board and it "was only fair that we come up, or try to come up, with a package that reimbursed him for all the hard work and success that he had".
He said he spoke to the HM Inspector of Constabulary and took legal advice from two separate barristers before the payments were made.
Cancer inquiry
The hospital said it would not comment on Essex Police's payments to Mr Baker.
He and former NHS North East Essex non-executive director Diane Leacock and accountant Julie Parker will each serve a three-year term, which can be extended to a maximum of six years.
In a statement, board chairman Dr Sally Irvine said: "These new non-executive directors will bring different and new approaches that will help the board in its efforts to deliver the changes that have been identified over the past year."
The hospital said non-executive directors "help develop strategy and scrutinise performance".
"Non-executive directors receive an annual remuneration of £11,000 and their duties involve a minimum commitment of four days a month," it added.
Colchester Hospital is at the centre of a police inquiry over alleged cancer waiting time "inaccuracies".
Last week, the Care Quality Commission published its latest report and said it found three patients who had waited more than 100 days for treatment.