Essex postman spared jail over 1,500 letters theft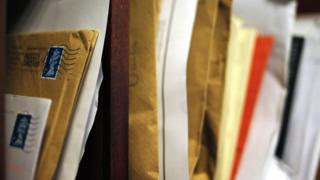 A "remorseful" former postman has admitted stealing 1,500 letters meant for people in Essex.
James Misselbrook, 22, of Albert Gardens, Harlow, also admitted delaying nearly 2,000 letters last November.
Both offences, which could have carried penalties of up to six months jail, were committed in the Brentwood area.
The 22-year-old was given 150 hours of community service and told to pay £580 in costs. The Royal Mail issued an apology and the postman resigned.
Magistrates in Chelmsford told Misselbrook he would have been given a jail sentence had it not been for the "remorse" he had shown throughout.
The court heard Misselbrook had been struggling in the role and only two of the envelopes recovered had been opened.
Zero tolerance to dishonesty
Affected residents said they remembered being told last year that some of their mail had been delayed but had not known the reason.
The court was told Misselbrook no longer worked for Royal Mail.
A Royal Mail spokeswoman said a postman from Brentwood delivery office resigned last year following an investigation into the intentional delay of mail.
"Delayed mail was delivered to customers with a covering letter. Royal Mail apologises to any customer whose mail has been affected.
"Royal Mail has a zero tolerance approach to any dishonesty and that stance is shared by the overwhelming majority of postmen and women.
"It is a criminal offence to tamper with or delay the delivery of mail. Royal Mail will always seek to prosecute."