Essex Police seek owner of stolen 'medieval' leg irons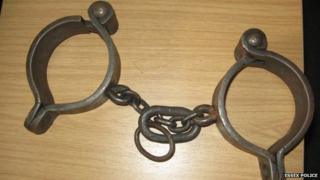 Police who recovered "medieval-style" leg irons during a burglary investigation in Essex are hoping to return them to their owner.
Officers were investigating the thefts of weapons and armour from two Essex museums last month.
A 32-year-old man from Takeley, Stansted, was bailed until 19 April.
PC Red Leeson said the leg irons were discovered "during a subsequent search of a residential property in north Essex".
A theft took place at the Combined Military Services Museum, Maldon, on 13 March and Mountfitchet Castle, Stansted, was burgled on 15 March.
Both museums have told officers the leg irons do not belong to them.
PC Leeson said police were now looking to find their owner.