Laughlin Whiteley beats cancer after stem cell transplant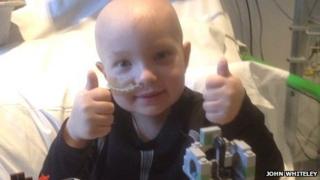 A seven-year-old boy whose second fight against a rare cancer was charted in a blog by his father has been given the all-clear.
Laughlin Whiteley, of Burnham-on-Crouch, Essex, had a stem cell transplant in February after he was diagnosed with acute myeloid leukaemia.
Doctors think he developed it as a result of the chemotherapy used to treat a brain tumour when he was four.
Laughlin's mother Andrea Poyser said: "We are over the moon."
She and her husband, John Whiteley, were told there was no longer any cancer in Laughlin's bone marrow.
Beach hut
Mr Whiteley started a blog in 2011 to help him cope with Laughlin's illness and to show Laughlin when he is older.
Ms Poyser said: "This whole stem cell transplant thing is phenomenal - it's the way forward.
"We can't wait to get in touch with the donor in two years' time, when we're allowed."
They hope Laughlin - known as Lockey - could be discharged in a few days, after weeks spent in Great Ormond Street Hospital.
The family set up a charity Unlock a Life for Lockey to encourage more people to register as bone marrow donors.
At the end of April the charity will open a beach hut at Walton-on-the-Naze, named the Happy Shack, for children with cancer.