Widow of British Airways pilot killed in Essex crash pays tribute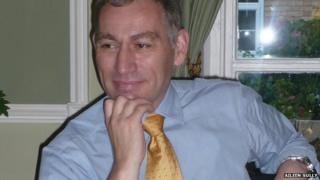 An airline pilot killed in a plane crash over Essex had served in both the Falklands conflict and the Gulf War, his widow has said.
British Airways pilot Andrew Sully, 50, and 29-year-old Simon Chamberlain died in the YAK 52 plane crash near Chelmsford on Saturday afternoon.
Inquests into their deaths were opened in Chelmsford earlier. Full hearings will be held at a later date.
Mr Sully's widow Aileen said: "Andrew died doing what he loved."
As a teenager, he joined the air cadets before flying with the University of Birmingham Air Squadron and joining the Royal Air Force as an officer pilot.
He saw active service flying the Hercules C130 out of RAF Lyneham during the Falklands in 1982 and in the 1991 Gulf War.
Mr Sully, who lived in Writtle, near Chelmsford, was a senior first officer with British Airways' 747 fleet.
"Both men are described by those who last saw them as happy and excited about going airborne," Mrs Sully said.
"The incident occurred 15 minutes after departing from North Weald.
"Andrew was a highly experienced and skilled pilot, especially in aerobatics.
"Andrew was passionate about flying and extremely skilled in all aspects of aviation."
British Airways said Mr Sully was "a highly-respected and popular member" of its pilot team.
The Air Accidents Investigation Branch is investigating the crash.