Jay Whiston: Edward Redman guilty of murder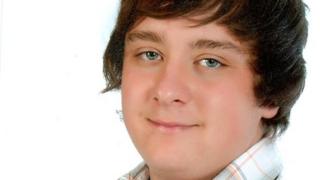 A youth has been found guilty of the murder of a 17-year-old who was stabbed to death at a party advertised on Facebook.
Jay Whiston, from Clacton, was stabbed in Marlowe Way, Colchester, in September 2012 and died in hospital shortly afterwards.
Edward Redman, 18, of Halstead Road, Colchester, was convicted by a jury at Chelmsford Crown Court.
The court heard Redman demanded Mr Whiston's friend hand over his drink.
The "unprovoked" stabbing was described by prosecutor Mark Milliken-Smith QC as a "desperate example of the catastrophe and heartbreak" brought about by the use of knives.
Redman did not give evidence during the 13-week trial and remained impassive as the verdict was announced.
'Air of fear'
Mr Whiston's family cheered and someone shouted "scum" from the public gallery.
Judge Charles Gratwicke said: "You have been found guilty of a vicious, cold-blooded stabbing.
"You'll have to prepare yourself for a substantial prison sentence."
During the trial, Mr Milliken-Smith said the party where the stabbing took place was "advertised to friends via Facebook and by personal word of mouth" by the host.
The court heard that "numbers grew", and some people, whose presence may not necessarily have been wanted at the party, were in attendance.
Mr Milliken-Smith said Mr Whiston arrived at about 20:30 GMT with a friend.
The jury heard that Redman and his group brought "an air of unease and tension", and that they were "spreading an air of fear".
Redman had demanded that Mr Whiston's friend give him his drink before pushing him.
'Big fight'
Despite Mr Whiston, of Aster Close, Clacton, telling him "we don't want trouble", Redman punched and then stabbed him, the court heard.
As his victim staggered away, Redman followed him before hitting him on the head with a bottle and stabbing him again.
Afterwards, Redman was heard saying on his phone "Just tell them there was a big fight. You don't know anything about it," as he encouraged others to cover up what had happened.
Redman's father Gary Redman, 51, and brother John Redman, 19, were both found guilty of perverting the course of justice.
Shannon Fenlon, 19, from Jameson Road, Clacton, was convicted of the same charge.
All were remanded in custody and will be sentenced at a later date.
Speaking after the verdicts, Det Insp Anne Cameron said Redman had been a prolific offender since he was a young teenager.
"He is a violent, selfish thug who does not care for anyone else's needs," she added.
"Jay was a charming, morally courageous young man who would stand up to those who did wrong.
"His life came to an end due to his heroic actions."