Essex County Hospital to shut and clinics transfer to community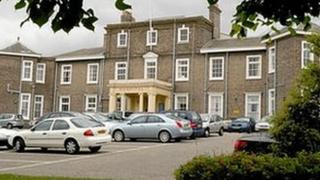 A hospital accused of falsifying cancer patients' records and delaying appointments is to shut.
All services and clinics at Essex County Hospital, where 350 people are employed, are to be moved out.
Clinics at the hospital in Colchester include dentistry, breast screening, audiology, dermatology, ophthalmology and genito-urinary medicine.
The Unison union said the closure had been expected for 20 years and would benefit patients and staff.
Colchester Hospital University NHS Foundation Trust said all services and departments now at Essex County Hospital would be transferred to other sites, some in the community, by April 2015.
The trust is at the centre of a police inquiry over alleged cancer waiting time "inaccuracies".
The Care Quality Commission (CQC) said it found three patients who had waited more than 100 days for treatment.
'Some sadness'
NHS England inspectors found "proper investigations" into complaints staff were bullied had not been carried out.
The trust said the closure was not linked to the inquiry but had been a long-term plan.
A "detailed plan" for improvement was set out in a document due to be discussed by the trust board on Thursday.
Chief executive Kim Hodgson said the hospital had served the people of Colchester and north-east Essex for almost two centuries.
"This announcement about transferring off the site will be met with some sadness," she said.
Some services will transfer to Colchester General Hospital.
Essex County Hospital, which opened on its current Lexden Road site 50 years ago, will close by April 2015.
The Mary Barron Suite, a chemotherapy unit, was relocated to Turner Road in October last year.
'No jobs lost'
Its two cancer wards will transfer by the end of August.
The new £25m radiotherapy centre at Colchester General Hospital is due to start treating patients next month.
Tracey Lambert, regional head of health for Unison, said the government had asked hospitals to look at older buildings to see if any were "not fit for purpose".
Essex County Hospital had been earmarked for closure for 20 years and this plan "would benefit patients and staff", she said.
"No jobs will be lost as staff will transfer to Colchester General Hospital or to centres in the community," she said.
"The trust will also get revenue from the sale of the site," she said.