Taser use by Essex police facing review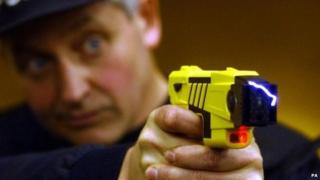 The use of Tasers by Essex Police is to be reviewed after the force trebled its usage of the stun guns over the past five years.
Home Office statistics showed Essex Police recorded 152 Taser deployments in 2013, compared with 42 in 2009.
Police and Crime Commissioner Nick Alston said concerns had been raised.
But Essex Police said the rise in officers carrying Tasers was a result in more staff being trained in their usage.
"I believe it is important that I introduce a framework to monitor and review the use of force by Essex Police on a regular basis," said Mr Alston.
He said he supported officers using "reasonable and proportionate force" when necessary, but said it should only happen after "other means of de-escalating a situation" had been considered.
Mr Alston also pointed out that the definition of a Taser being used included it being drawn, but not fired.
Last year, 31 of the 152 recorded instances resulted in the Taser being fired. On two other occasions, a "drive stun", which is a jab of the Taser, was recorded.
"The level of force and the circumstances in which police officers use Taser is an area of legitimate public interest," Mr Alston said.
"There are risks with the discharge of Taser and this matter has been raised at our public meetings and through other channels."
Mr Alston said he would develop a "monitoring framework" with Chief Constable Stephen Kavanagh over the next few weeks.
A force spokesman said: "Taser deployment in Essex has increased over the past few years due to the increase in the number of officers trained in its usage.
"The force has approximately 200 officers across the county who are trained to carry and use Taser at incidents where officers or members of the public are at risk of harm.
"Recent figures show that from July to December 2013, Taser was used 16 times from its 76 deployments."