Forklift truck falls into hole at Mistley Quay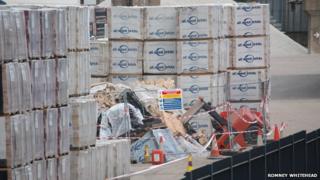 A forklift truck became stuck after falling into a hole which opened up at a quay in Essex.
The vehicle is thought to have been carrying bricks at the port in Mistley when the hole appeared.
Sherri Singleton, who works at a nearby cafe, said the hole "looked like a sinkhole" but could have been caused by the weight of the bricks.
TW Logistics, which owns the site, has yet to comment on the incident, which happened at about 15:00 BST.
Essex Police said it had cordoned off an area for safety.
It is not yet known if anyone was hurt.
Ms Singleton said there had been an increase in traffic at the port.
"This is an old quay which dates back several centuries and it can't withstand the heavy traffic," she said.
Local resident Romney Whitehead said there had been "lots of sightseers" since the hole had appeared.
"You can see the back of the forklift sticking out," she said, adding that she was also concerned about increased traffic at the port.
"It's the size of the vehicles and the volume," she said. "It's tripled since I moved here three years ago."