Essex Police car 'blasts Sound of Da Police' at revellers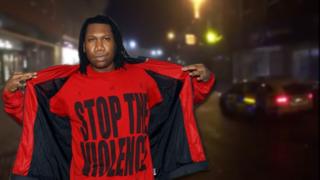 Police in Essex are investigating footage apparently showing a rap song being blasted out from a patrol car's loudspeaker system.
Officers driving through Chelmsford were caught on video seemingly playing KRS-One's Sound Of Da Police.
The YouTube film shows the car blasting out the line "Woop, woop, it's the sound of da police".
A spokesman for the force said: "An officer in the car has been identified and an investigation is under way."
The investigation sought "to establish the precise and accurate circumstances of the contents of the video", he added.
Asked about the film on BBC Essex, Conservative Police and Crime Commissioner Nick Alston, said the question had "caught me on the hip hop".
He added: "If it's true, I like people to have a sense of humour. Most members of the public have got a sense of humour and most police officers have too.
"There's also a question of judgment, and there's a balance between a sense of humour and judgment here.
"It's a question for the Chief Constable, but if someone's sense of humour got ahead of their judgment then maybe it's forgivable, but let's have a look at the facts."
Listeners to BBC Essex said the video "made the police seem human" and praised officers for "showing a sense of humour".
One said: "If the police really did this, perhaps if they arrest someone they should play I Fought the Law by The Clash, on the way to the station."