Sex tape 'back story' to Tulisa assault charge, Basildon Magistrates told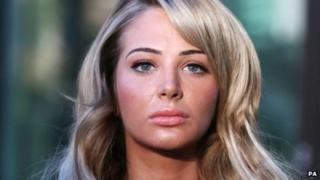 The lawyer for former N-Dubz singer and X Factor judge Tulisa Contostavlos has asked magistrates for an assault charge against her to be dropped.
The 25-year-old denies assaulting a man at last year's V Festival.
Speaking at Basildon Magistrates' Court, Jeremy Dein QC said the "back story" to the alleged assault concerned a sex tape featuring his client.
The prosecution said it will review the case before an expected trial later this month.
Mr Dein said the case against the singer centred on matters of a "highly sensitive nature".
He said Tulisa, of north London, was accused of throwing a punch on 18 August 2013 which had caused no injury.
Mr Dein requested the case be 'stayed' claiming it was not in the public interest to proceed with it.
The court was told the defence would be providing the prosecution with further details, which would then be considered.
It is expected that the prosecution will makes its decision on how to proceed on the first day of what is expected to be a three-day trial.
The alleged victim is the celebrity blogger Vas Morgan.
The trial will be held in front of magistrates in Chelmsford on 23 May.