Tour de France Essex road art 'too colourful'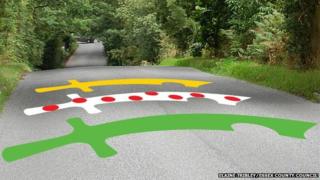 An artist hired to create works for the Tour de France route in Essex says she has been told the colours are wrong.
Commissioned by Essex County Council, Elaine Tribley's design features the three seaxes of the Essex flag in the colours of jerseys won in the Tour.
But Ms Tribley says she has been told by the county council the seaxes "have to be in red".
The county council said it liked the "wonderful" designs and was still in dialogue with Ms Tribley.
The 7 July stage of the Tour begins in Cambridge before entering Essex near Saffron Walden. It will take in Chelmsford and Epping Forest before heading to London.
The road artworks being designed by Ms Tribley will be placed at four sites along the Tour's route in Essex.
The county council's logo is three seaxes, a single-edged knife of the Anglo-Saxons, in red on a white background.
Ms Tribley said her design made "visual sense", adding: "I'm obviously not interested in painting a red county council logo.
"I'm not sure of what interest that would be to anyone and also I'm sure it would alienate and upset the four districts where each road art is located."
A spokeswoman for Essex County Council said: "Elaine Tribley has provided two wonderful designs and we haven't yet decided which one we are going to use for the road art at the Tour de France.
"As with any art, the two creative and imaginative designs have sparked differing opinions and comments.
"No final decision has been made yet, and we would welcome the views of people in the county about which design they would like to see on the road on 7 July when the Tour de France comes to Essex."