Dogs Trust Essex first 'resident' is a tabby cat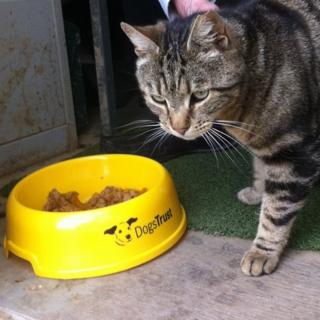 A "homeless" cat has become the first resident at a new Essex dog rescue centre, settling in a month ahead of any other canine companions.
"Dog the Mog", as staff at The Dogs Trust's Wickford home dubbed the tabby, appeared as work was being completed.
Although she has made herself at home, it is believed the semi-feral animal may be a farm cat.
Staff say if Dog the Mog decides to stay once the dogs move in, she is welcome to remain at the centre.
When the £6.7m Dogs Trust Essex home opens on 2 June it is expected to cater for up to 1,000 dogs a year.
The charity's 19th rehoming centre will have almost 70 glass-fronted kennels, a training barn, a veterinary suite and rehabilitation facilities.
Centre manager Maria Wickes said she was not surprised that Dog the Mog had decided the centre was "a good place to set up home".
"One morning this skinny kitty just arrived at the gates and she has made frequent visits ever since," she said.
"It is ironic that our first unofficial resident would be a cat, but we are all animal lovers and we adore her, even if she meows rather than barks at us each morning."
Ms Wickes said the cat was "not keen on human company unless she is being fed" and added she was not sure how she would react once rescue dogs begin arriving.
Staff hope someone will recognise Dog the Mog and claim her, but say they are happy to continue looking after her if not.