Beach shut due to unexploded shells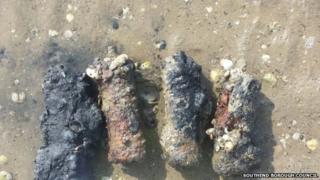 An increase in the number of wartime shells unearthed because of the winter storms and flooding has caused the temporary closure of an Essex beach.
About 50 mortar and artillery shells, one dating from 1880, and a dozen "possible machine guns" have been found on Shoebury East Beach since March.
Southend-on-Sea Borough Council said the beach had been closed to allow a survey of the area to be carried out.
All other beaches in the area remain open, the council said.
Safety 'first priority'
The survey of the beach is to be carried out by the Ministry of Defence, which leases the Shoebury East Beach foreshore to the borough council.
Andrew Lewis, corporate director for place at the council, said public safety was the "first priority."
He said: "It is too early to say at this stage how long this work will take and how long the beach will be closed for, but... we have to put public safety ahead of all other considerations.
"We would ask for local people's patience and support during the beach closure, and to observe the signs that will ask people not to go onto the beach, mud or into the water."
The council said it was not unusual to find ordnance further out to sea, but to find the shells so close to the beach could be a potential danger to visitors.