Colchester Castle reopens after £4.2m redevelopment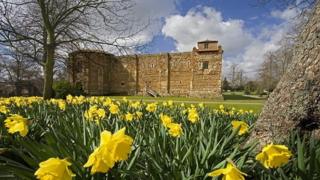 One of the "finest surviving Norman buildings in Britain" has reopened to the public following a £4.2m makeover.
The Castle Museum in Colchester was closed for 15 months to allow for the installation of improved access and new interactive displays.
Tim Young, from Colchester Borough Council, said the attraction will "benefit the local community" and is "vital to the town's tourism economy".
The project was supported by a grant from the Heritage Lottery Fund.
Considered to be of national and international significance, the site was once a temple of the Emperor Claudius who made Colchester the capital of Roman Britain in AD43.
Witch-finder General
After its destruction by the Iceni tribe, led by Boudica, the Normans recognised the significance of the site and chose it to build a status castle for William the Conqueror.
A blueprint for the Tower of London, the property has been a Royal Residence, the base for the 'Witch-finder General' Matthew Hopkins in 1645, and from 1860 it has been in use as Colchester's main museum, housing collections from prehistory to the Civil War.
Robyn Llewellyn, of the Heritage Lottery Fund, said: "Colchester Castle is one of the finest surviving Norman buildings in Britain, a Scheduled Ancient Monument and Grade I listed.
"We are delighted to see the opening of the refurbished museum and look forward to the reinterpretation of some the most fascinating stories in our island's history."