Andy Wilmott completes 600th marathon in Halstead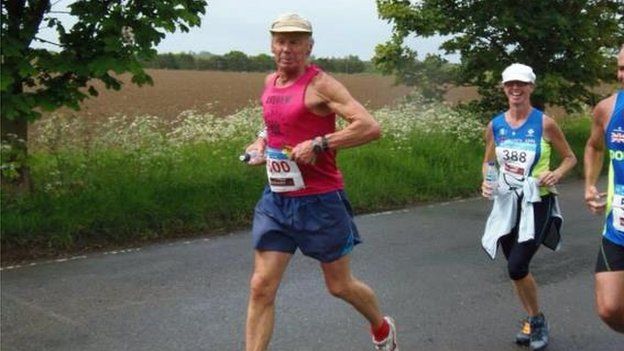 A 69-year-old man from Essex has finished his 600th marathon, and says he is ready for more.
Andy Wilmott completed the Halstead and Essex Marathon in a time of 4:13:55 on Sunday, 26 years after he ran his first marathon in London.
"It was just another marathon," said Mr Wilmott, who lives in Halstead and represents Halstead Road Runners.
"My 601st is next weekend in Norfolk, followed by 602 in Kent the week after that."
Mr Wilmott said he never intended to spend so much time running and vowed never to do another marathon after his inaugural event.
"The next week I was somewhere else," he said.
Since then he has run more than 58,500 miles.
"I keep a note of all my miles in a log book," Mr Wilmott said. "I do marathons all over the place.
"It's not really a hobby anymore, just something I do."
Mr Wilmott said his fastest marathon was finished in three hours and eight minutes, but he now takes things at a more gentle pace.
His achievements have been monitored by the 100 Marathon Club.
The group's chairman, Traviss Willcox, said Mr Wilmott was the sixth person in the UK to have run 600 marathons.
"Andy completed his 100th marathon in 1994 so has finished another 500 since turning 50," he said.
"That's basically one every two weeks, for two decades."
Mr Wilmott's club marked Sunday's event with a trophy and a "customary post-marathon pint of milk".
Keith Thorogood, the club's chairman, said it was a "fantastic" achievement.
"He's a loyal club member who is loved by everyone," he said. "He's an inspiration to us all."
Related Internet Links
The BBC is not responsible for the content of external sites.