Loughton man's 'vivid lottery dream' comes true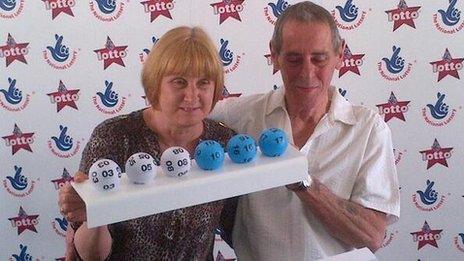 A man who had "a very vivid dream" about the lottery said he was "surprisingly spooked" when he scooped nearly £1.2m within a month.
Terry Vigus, 59, from Loughton in Essex, who dreamt about matching numbers on his ticket three weeks ago, won a jackpot prize of £1,171,812 in Saturday's Lotto draw.
The industrial engineer said he used family birthday dates as numbers for "the first time in years".
"Someone was on my side," he added.
He said his dream showed the lottery balls dropping and one by one they matched the numbers on his ticket.
"I had matched five and was waiting for the sixth ball to fall when I suddenly woke up," he said.
"It was really annoying and I couldn't get it out of my head."
He said he told his wife of 35 years, Linda, 58, but did not think more about it until last weekend when "everything seemed to fit into place".
Mr Vigus, who said he had "only ever won a tenner" on the lottery before, said he wanted to thank his daughter, Lisa, because he normally bought a Lucky Dip ticket.
"For some reason she suggested I do birthday dates this time.... it's the first time in years we have picked them," he said.
"It just feels like someone was on my side this weekend.... now my head is spinning and I can't sleep."
He said he hoped to treat himself to a motor home to allow him to enjoy more fishing trips.
The couple are also planning to buy the house where they have lived for 23 years and pay off their daughter's mortgage.
"It's taking time for me to make sense of it but I know it will make life for the whole family so much easier," he said.
The winning numbers in Saturday's Lotto draw were 03, 05, 08, 10, 16 and 17.
Three winners shared a prize fund of £3,515,436.
Related Internet Links
The BBC is not responsible for the content of external sites.