Down Hall hotel pool deaths 'an accident', coroner says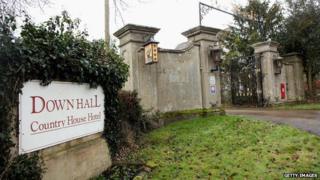 A couple whose bodies were found in a swimming pool during a stay at a luxury hotel died as a result of an accident, a coroner has said.
Komba Kpakiwa, 31, and Josephine Newahun Foday, 22, died at the Down Hall Country House Hotel in Hatfield Heath, Essex, in April last year.
An inquest in Chelmsford heard the pool had steep sides and a central deep end, which could be unsafe.
Post-mortem examinations found the couple, who could not swim, drowned.
Nursing student Miss Foday, from Plumstead, south-east London, had celebrated her birthday with married father-of-two Mr Kpakiwa, from Erith, the previous day.
Earlier in the inquest, a fellow guest had said he saw the couple playing in the pool. He returned minutes later to see the couple were not moving.
'Concerns raised'
Hotel staff lifted them out of the water and performed CPR, but they were pronounced dead at the scene.
Craig Vines, the hotel's deputy general manager, told the inquest the pool did not have a lifeguard, and that another guest had expressed concerns about safety.
After the inquest, Mr Kpakiwa's sister, Angela Kpakiwa, said: "We feel their deaths could have been avoided if there was a lifeguard or if they had acted on the concerns when they were raised a year earlier."
His family said they were considering legal action against the hotel and would be seeking an apology.
Essex coroner Caroline Beasley-Murray said she would raise concerns about the pool's design in a report , but said the facility had closed since the deaths.
Uttlesford District Council, the hotel's safety enforcing authority, said it was investigating the incident and would decide "whether legal proceedings will be instigated in due course".