Shoeburyness beach hunt by Navy for WW2 explosives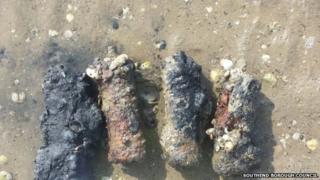 A beach shut by the Ministry of Defence (MoD) two weeks ago after World War Two explosives and ammunition were found will now not reopen until June.
Disposal teams cleared ordnance from sections of East and West beaches in Shoeburyness, Essex, but the Royal Navy is carrying out a further survey.
The MoD said it recognised the concerns of visitors, residents and businesses.
It would take two weeks to analyse the survey before the council could decide to reopen the beach, the MoD said.
The beach area is owned by the MoD but has public access and is popular with visitors and residents.