Thurrock Council defends housing repairs programme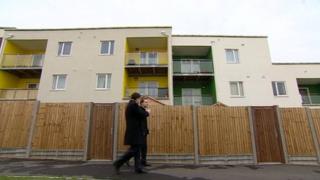 A local authority has been accused of "writing cheques" for council house repairs without checking the jobs have been done.
Thurrock Council manages 10,500 properties in the south of Essex.
But, Conservative MP for Thurrock Jackie Doyle-Price claims the council was billed for works not carried out.
The council said it was spending millions of pounds on works but admitted problems with some repairs were inevitable.
Mrs Doyle-Price said repairs to the area's housing stock had, over the years, "been done very poorly".
"They are spending all this money and they need to make sure it is done wisely and not just sit in civic offices writing cheques," she said.
'Put them right'
She described a case in Grays in which an occupant enquiring as to when her new windows and kitchen would be installed was "told that it was booked on the system as work having been completed".
Mrs Doyle-Price said she had also been to see a constituent where only two of seven planned works had been carried out.
Labour council leader John Kent said: "What we are now doing is investing £80m in refurbishing each one of 10,500 properties.
"Last year alone, 1,700 of those homes had new kitchens, new bathrooms and where needed new roofs or rewiring.
"Of course the works are being checked but when you have 10,500 properties and you are carrying out a project of this scale of course some of them are going to go wrong. I want to hear about the ones that go wrong so that we can put them right."