Princess Alexandra Hospital 'foot wash' emergency doctor struck off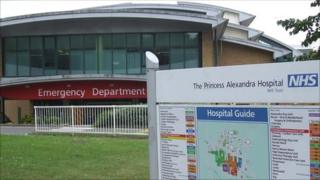 An emergency department doctor who took off his socks and washed his feet in front of a patient has been struck off.
When asked what he was doing by the patient at Princess Alexandra Hospital in Harlow, Essex, he said: "Shut up".
The episode was one of a string of offences between 2009 to 2011 found proved by the Medical Practitioners Tribunal Service.
Dr Fazal Haque was not at the hearing but had written claiming the complaints against him were racially motivated.
His claims of racism were dismissed by the tribunal.
'Widespread failings'
The foot-washing episode was recorded by a nurse who later discovered her report had been removed.
She found Dr Haque had taken the report and when she confronted him was told "he didn't want this matter to go any further and he was sorry (but) was rushing to wash before sunrise (for prayers)."
Dr Haque was also found to have behaved inappropriately towards colleagues and showed "widespread failings in his clinical care".
Panel chairman Michele Codd said: "Dr Haque refuses to accept any form of criticism, and has a blinkered view of his own position and competence."
She added his "performance fell seriously below the standard expected of a competent specialty doctor in emergency medicine, with no evidence that there is any acknowledgement by him of fault or understanding of his failings."