Basildon hospital taken out of special measures after improvements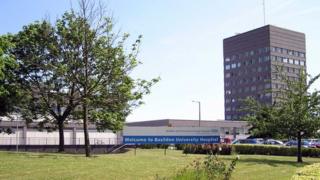 A hospital put into special measures amid death rate concerns has made "great improvement", inspectors found.
The Keogh Review last year found deaths among weekend admissions contributed to the hospital's death rate being 11% higher than the average NHS hospital.
It was put in special measures by health sector regulator Monitor. This has now been lifted.
Basildon chief executive Clare Panniker said the trust could "once more be confident".
Basildon Hospital had 3,186 deaths between April 2010 and April 2012.
In the two years to October 2012, there were 544 more deaths than expected.
'Hard work'
Since it went into special measures, more than 200 extra clinical staff including nurses, nursing support staff and consultants have been recruited.
Ms Panniker said: "Our staff have worked tirelessly over the past year to raise standards and put care and compassion at the heart of everything we do."
The trust is still formally in breach of its licence to provide NHS funded services for failing to meet accident and emergency and waiting times targets. Monitor said it would separately review the trust's compliance in those areas.
Adam Cayley, regional director for Monitor, said: "Patients are benefiting from the great improvement at the trust. The decision we've taken today is a reflection of the hard work that staff at the trust, with Monitor's support, have put in to making the hospital a better place for local people.
"But this isn't the end of the story. We want to make sure that the trust keeps on improving and that these improvements last."