Naked bike ride set to go ahead in Clacton despite objections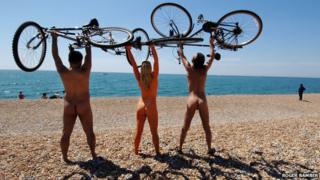 Naked riders have threatened to rebel against a "Victorian" council's efforts to stop a nude cycling event from taking place.
Official naked bike rides have been taking place across the UK since 2004.
But last year, following a ride in Clacton, Tendring District Council announced it wanted to prevent further naked events in the area.
It has written to organisers of the planned 19 July nude ride "strongly requesting" they cancel.
'Family resort'
A council spokesman said: "Far from our attitude being out of touch, we believe it is very much in touch with the feelings of the people of Clacton."
Tendring District Council's leader, Conservative Mick Page, said there was a great strength of feeling in the local community.
He said: "Last year the ride was billed as a peaceful environmental protest but there was no evidence of environmental issues, banners or a message - and it appeared to be a promotion of naturism.
"We have made a very reasonable request by letter, setting out all the objections, and stating why we do not believe that such an event is welcome or suitable for a family seaside resort like Clacton."
Robert Brown, one of the Clacton ride organisers, said he felt last year's inaugural event was a success and confirmed the ride would take place on 19 July, despite the request from the council and Essex Police.
He told BBC News that, despite the lack of placards and banners, the event was a protest against oil dependency and a car culture - and that clothing was optional.
Riders will be encouraged to wear black ribbons as a reminder of cyclists killed in road crashes, he said.