Clacton and Harwich maternity units to reopen 'on-demand'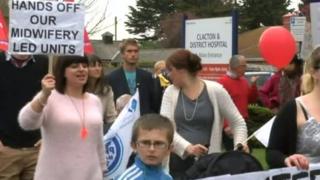 Maternity units in Clacton and Harwich, which were closed in March when midwives were transferred to Colchester, are being partly reopened.
Health service bosses will introduce an 'on-demand' service by July where midwives are on-call at night.
The NHS said it was able to make the changes because of extra funding for midwives at Colchester.
But campaigners say they still want staff on-site round the clock. Tory MP Douglas Carswell said "it's not over".
Clacton and Harwich had on-call midwives before the units were shut in March.
Fiona Carter gave birth to her son at Harwich just before the closure.
"It was the middle of the night and the midwife wasn't sat up waiting in case she got a call, she was in bed.
"She had to get to the unit and open the doors.
"It's very good that we've got somewhere now so we don't have to travel to Colchester, but in an ever-growing area we need full maternity services."
The Trust said the units closed due to a shortage of midwives in Colchester, but they had since taken on the equivalent of 5.6 full-time staff.
Amanda Hallums, director of women's and children's services at Colchester Hospital, said: "[24 hour] staffing is an option that we would consider, however we've got to be realistic and work with local communities to increase the number of births at the units.
"No woman would be transferred back home unless it was clinically appropriate to do so."
Mr Carswell, Conservative MP for Clacton, said: "An on-demand service is a lot better than a shut service, so this is a good decision, but it's not over."