Chelmsford flats destroyed in blaze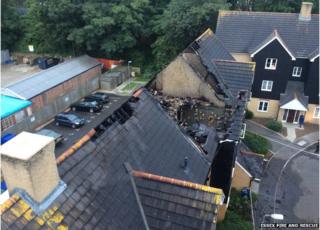 Thirty people are unable to return home after a fire destroyed part of a block of flats.
The scale of the damage caused by Saturday's fire in Harberd Tye, Chelmsford, was revealed in images released by Essex Fire and Rescue.
The fire took hold in the top floor of the three-storey building and fire crews said their efforts to put it out were hampered by "poor water supply".
An investigation into the cause of the fire is under way.
Sub officer Syd Barrett, said: "In all, around 30 people escaped safely from the building but none of them will be able to return because of the damage caused.
"When crews arrived, there was a well developed fire in the roof void of the block which had broken through the roof of the building.
"The fire did not spread to an adjacent block."