Nahid Almanea Colchester murder: £10,000 reward offered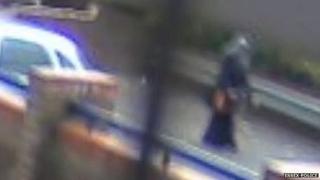 A reward of £10,000 has been offered in an attempt to solve the murder of a Saudi Arabian student in Essex.
Nahid Almanea, 31, was found with 16 stab wounds on a path in Colchester on 17 June.
The announcement was made alongside the doubling of another reward - to £10,000 - for help in solving the murder of James Attfield who was stabbed more than 100 times in March.
The charity that posted both rewards said the deaths had "shocked" the town.
Crimestoppers' regional manager for the east, Ann Scott, said: "During this time of immense tragedy, the whole community can unite in helping Essex Police find the person or persons responsible for this horrific murder."
Further tributes have been paid to Ms Almanea by the University of Essex, where she was studying an English language course.
"She had just achieved the highest score in her class for her most recent grammar and vocabulary test, although we did not get the chance to share this with her," said Richard Barnard, head of the international academy.
Det Ch Supt Steve Worron, leading the murder investigation, said his officers had recovered 38 knives during the search for the murder weapon.
He said the knives would be sent off for forensic analysis.
Det Ch Supt Worron said he was encouraged by the public's response to the investigation. He said more than 600 people had contacted the incident room.
He added there was no clear motive for the attack.
Essex Police said they "do not yet know whether the murders of Nahid Almanea and James Attfield have been committed by the same person or people".
James Attfield, 33, was found near Castle Park in Colchester on 29 March. He had been stabbed 102 times.