Essex French partridges escape barn fire carnage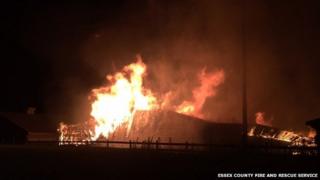 Thousands of French partridges were led to safety as 40 firefighters tackled a blaze at a nearby barn in Essex.
Fire broke out in the barn containing wooden flooring and propane gas cylinders on Kentish Farm, Sible Hedingham, at about 02:30 BST.
Seven appliances took about seven hours to put the fire out and prevent it spreading to the birds' barn.
A fire service spokesman said: "If it had reached the partridges' shed I've no doubt they would have all died."
The blaze was in a barn containing two 2,000-litre propane tanks which had to be cooled at the scene.
Sub officer Darren Hockley, from Wethersfield fire station, said: "Close-by there were thousands of partridges in a second shed and the crews worked extremely hard to prevent the fire from spreading to the poultry shed.
"The crews did an excellent job containing the fire to save the birds."
At about 09:00 BST two crews remained at the scene damping down hotspots, a spokesman said.
An investigation into the cause is to be carried out.