Epping Primary School bans lunchtime football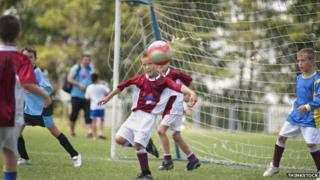 A school has banned children from playing football at lunchtime after some pupils broke rules and used "inappropriate language".
In a letter sent to parents, Epping Primary School, in Essex, said it would "temporarily remove football from the playground" due to the misdemeanours.
Julie Taylor, chair of governors, said: "This is not a decision that has been taken lightly."
Children at the school said they were "gutted" by the decision.
In the letter sent to parents, Ms Taylor wrote: "Unfortunately this term there have been a number of incidents where some pupils have not adhered to the game rules, used inappropriate language and have been rude and disrespectful to members of staff.
"They were made aware that if the situation did not improve then football would be stopped."
Ms Taylor said the lunchtime football was "adult-led" and an "extra curricular activity that is in addition to the other sporting activities" at the school.
She said football would be reinstated in September, "as long as appropriate staff are willing and pupil behaviour is appropriate".
One parent at the school said: "Football's a big part of their lives, and you encourage them to be active.
"But you can't when they're banned."
Another parent told BBC Essex: "It's their free time, they should be allowed to do whatever they want within reason.
"They're really upset about it.
"They're all watching the World Cup and they can't play football."